Latest new technology from Korea for Needleless PDO Thread Lift is now in Singapore at Beauty Recipe Aesthetics! We all know how popular PDO Thread Lifting is at the aesthetics clinics and the effectiveness of this wonderful technology from Korea which is used all over the world right now to for a face lift. Today, with this new clinically proven TDN technology, this is the next generation of PDO threads lifting as it is Painless, Non invasive with No Downtime.  
With Thesera L – a strong lifting treatment with Melting String, you need not go through any pain, bruise or swelling anymore to have PDO Threads Lift for full face penetration by using the TDN technology which is a safer and effective alternative to surgeries.
TDN (Transfer Double Nanosphere) technology is the core technology for penetration of various active ingredients such as Hyaluronic acid, PPC, peptides and various acids. Active ingredients are encapsulated in nano-sized vehicles to travel down the lipid, protected from external forces such as temperature and different pH levels. This allows targeting the entire face at once instead of just a area or section.
Before this, current methodology to inject active ingredients under epidermis layer employs transcellular pathway, which requires 0.39mm of needles. It leaves PIH and downtime for its invasive characteristics and only targets segment by area.
Now, you can say that there is no need for lasers, micro needles or have any needles injected into your skin now with this new technology invention.
"Needleless" TDN solution travels down the lipid through intercellular pathway for transfer of wider penetration/permeating area without PIH or downtime.
Most outstanding benefits from TDN technology are its non-invasiveness, safe and stable penetration.
Advantages of TDN technology compared to traditional PDO Thread Lifts
It can capsulize wanted materials.
It does not give damage on epidermis.
It helps specific materials to be absorb without needle.
It can make capsules to open at specific time
This revolution new technology is extremely safe with KFDA approved, has also receive strong support and funding from government.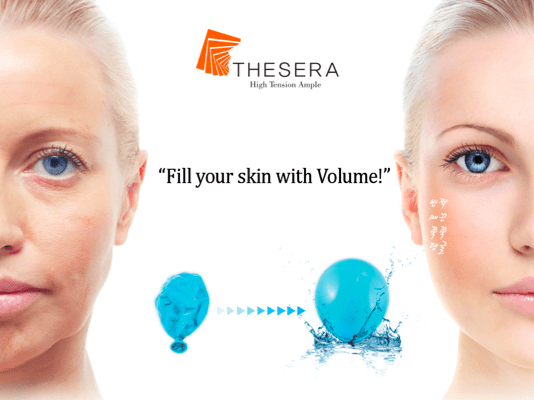 Benefits to the Skin
Immediate Facial Lifting Effect
Immediate pore tightening effect
Increase dermis density and skin elasticity after 4 weeks.
Whitening and fairer skin
Adds hydration, radiance and glow to your skin
THESERA is now used over 1500 aesthetics, spa and skin care clinics all over Korea! 
Click on video below to see for yourself!
Promotion 
So how much is Needleless thread face lift treatment?
Call 6702 3062 now to try this high tech treatment for just $350. (Orginal Price $450) 
We also provide professional training and supplies for this treatment. There are grants and subsidies for Singaporeans with most of our courses.
Click on this link to check out one of our client's review on this treatment: https://kwrer.wordpress.com/2018/04/19/pdo-thread-lift-facial-treatment/